Our Atmospheric Oil Mist systems are used to measure oil mist particles in a machinery space, such as an Engine Room, Hydraulic Room, Turbine Room or Test Cell – anywhere where a build up of oil mist would prove harmful and potentially dangerous.
A QMI Atmospheric Oil Mist Detection System typically contains two key components;a a Monitor and a Sensor.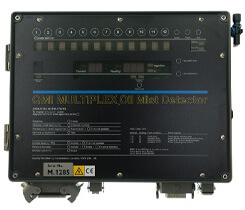 Multiplex Monitor
The QMI Multiplex Monitor can monitor Oil Mist from up to 12 separate sensors, with both a Shutdown and Datalogging options.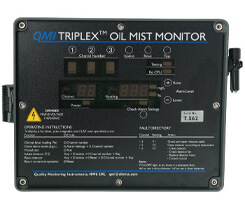 Triplex Monitor

The QMI Triplex Monitor operates in an identical way to the MULTIPLEX version with the exception being that it can measure up to three Channels.


Atmospheric Sensor
The QMI Atmospheric Sensor is used for Atmospheric Oil Mist Detection. It has an integrated fan which draws any oil mist in from the surrounding space.
It can be provided with an Articulated Joint (shown above) allowing the unit to be fixed in any configuration.

Multiway Junction Box
A Junction Box option is available for Atmospheric Sensors, for either a TRIPLEX or MULTIPLEX installation.
Use of a Junction Box would simplify a wiring configuration if required.