About Us
Quality Monitoring Instruments Ltd (QMI) is a family run business that has been at the forefront of engine and machinery space fire protection for 35 years.
Company founder, Brian Smith helped to develop a system to protect large diesel engines from explosions due to the ignition of oil mist in the engine crankcase. He has authored many papers over the years, that are still relevant in today's market.
QMI offers Oil Mist Detection Systems for engine crank cases and machine room atmospheres. The 12 channel Multiplex Oil Mist Monitor with Engine Detectors was launched in 1984, the QMI Atmospheric Oil Mist Sensor in 1989 and the 3 channel Triplex Monitor in 2001.

While the equipment was originally created for the marine industry, the systems can be used in land based facilities such as unmanned test cells, hydraulic pump rooms or high risk environments. They can also be used in any other non-hazardous environment that have potential exposure to oil mist.
The internal components and software of the monitors have been updated many times over the years to reflect technological advancements. The external appearance of the monitor has remained unchanged, as it's proven to be very robust and reliable. The benefit of this is that existing customers can upgrade to the latest specifications without having to buy a new system.
All QMI products and components are manufactured in the UK according to ISO standards and are type-approved by Lloyds Register and the American Bureau of Shipping.
The introduction of RS485 Modbus integration, allows for real-time output from the monitor to the master alarm panel. This is programmable through industry standard Modbus protocols.
QMI works with a global network of Sales Partners and Service Engineers who can assist with requirements in your region.
QMI is also the exclusive UK wholesale distributor for Kari-Finn float switches, designed for surface level monitoring and control of waste water levels, liquids generated by industry, liquids with varying degree of viscosity, liquids in wells, pump systems and tanks.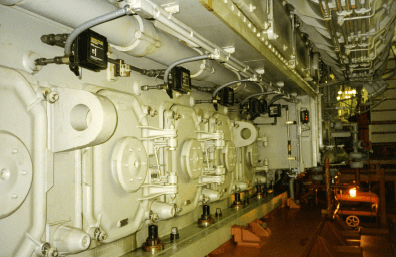 WHY CHOOSE A QMI ENGINE OIL MIST DETECTION SYSTEM?
35 years experience of keeping ship's engines safe
Manufactured in the UK to ISO standards
An activated alarm indicates there is a problem that needs investigation
Systems are upgradeable to the latest specification
Engine slow/shutdown facility