Atmospheric Oil Mist Detection Solutions
The QMI Atmospheric Oil Mist Detection System is used to identify oil mist in confined areas such as: engine rooms, pump rooms, bow thrusters, purifier rooms, hydraulic pack areas and test cells.
The equipment uses light scatter (nephelometry) technology. This allows the system to:
Deliver rapid response within 500 milliseconds of oil mist being detected
Measure oil mist particles between 3 and 10 microns
Quantify oil mist in mg/L
Activate a relay when oil mist is detected
The Atmospheric Sensors are used with QMI Multiplex (12 channel) or QMI Triplex (3 channel) Monitors. The number of Sensors required, will depend on the size of the space being monitored. The atmospheric sample is drawn through the front louvre by the integral fan, through the measuring chamber, then exhausted out of the back of the Sensor.
The Multiplex & Triplex Monitors incorporate a 'traffic light' system on each channel to ensure that operators know at first glance if there are hazardous concentrations of oil mist
The Monitor indicates oil mist levels as a percentage of the set alarm limit.
The Monitor can be set to read 100% at 1.3 mg/L and 2.00 mg/L.
For atmospheric applications, we would advise to set the alarm limit at 100% for 0.05 mg/L to ensure the earliest indication of an oil mist release.
Early detection of oil mist helps to safeguard personnel and equipment before a fire occurs. An oil mist release of any size must be treated as a potential fire risk.
An Atmospheric Oil Mist Detection System for up to 12 channels, typically contains the following:
| Description | Product code |
| --- | --- |
| 1 x Multiplex Monitor with Harting Connectors | Q01H |
| 1 x Junction Box | Q07 |
| Atmospheric Sensors* | Q10C |
| Atmospheric Sensor Maintenance Kit | Q1005 |
An Atmospheric Oil Mist Detection System for up to 3 channels, typically contains the following:
| Description | Product code |
| --- | --- |
| 1 x Triplex Monitor with individual shutdown | Q01T |
| 1 x 3 Way PCB | Q01T06 |
| Atmospheric Sensors* | Q10C |
| Atmospheric Sensor Maintenance Kit | Q1005 |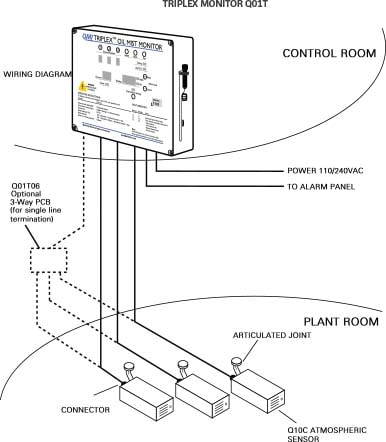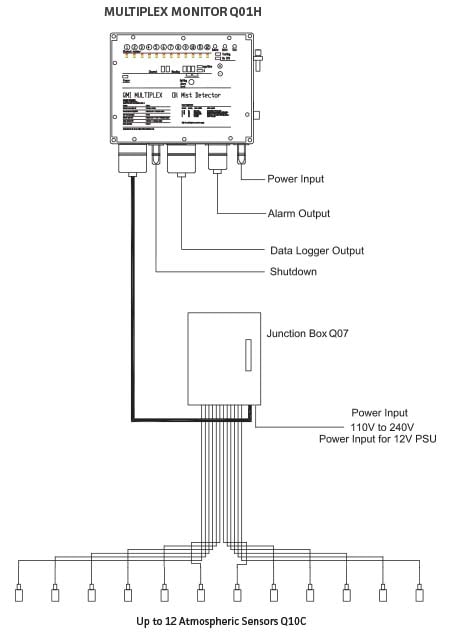 Optional extras include:
Data logger output
Modbus output
Individual or grouped shutdowns (Multiplex only)
*The number required depends on the size of the space being monitored, taking into account the ventilation in this space and the number of potential leakage sources